PETER WARREN
- Who is Warren
- Broadcaster
- Investigator
- Warren's Services
- What he is working on
- Warren recommends
SPECIALS
- Celebrity guests
- Special editorials
- Fans & Foes
- Warren in the news
- Warren Answers Questions
LISTENERS
- Around the world
CONTACT
- To contact Warren
- If you have a story
--- "(for my eyes only")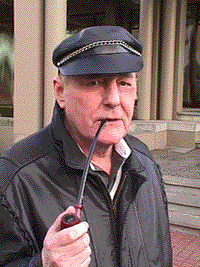 The versatile Warren….
Peter Warren, best-known in the Canadian broadcasting industry as host of his long-running "Action Line" program on CJOB in Winnipeg, has been in many places around the world. His career has taken him to Hong Kong, Great Britain, Mexico and the United States, and radio listeners in Calgary and Toronto may well recall his stop-overs there.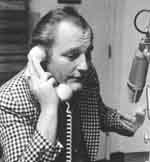 From 1971 to 1998, on CJOB, Peter served as an ombudsman, an arbitrator, an antagonist and a confidant. He challenged the leaders and the newsmakers, and brought issues before the public - all the while earning their respect for his acumen and his integrity. He touched many lives - from raising hundreds of thousands of dollars for flood victims to ensuring seniors had adequate food when the Storm of the Century hit Winnipeg.
A member of the CAB's Quarter-Century Club, Peter Warren, in 1997, was named by the Western Association of Broadcasters "Broadcaster of the Year". Other honours include the award of the Commemorative Medal on the 125th Anniversary of Confederation.

In 1999, Warren was inducted into the Canadian Association of Broadcasters' Hall of Fame.

Warren is often called upon as a guest speaker, or as a contributor to magazines, television and/or radio programs.
Among other publications, he has written for Maclean's Magazine (about open-line radio), The Globe and Mail, and Time Magazine.
Outside of his journalistic endeavors, he has also been involved in a multitude of other media activities, including:
- Film: "For Those Hunt The Wounded Down" (Credo Productions), voice-overs
- Film: "Regalo Degli Amatesi" (Fratellanza Amatese), on-camera narration
- Television: "The Unexplained" (Tower Productions, Chicago, for the A&E, Arts And Entertainment, Network), on-camera interviews
- Television: "X-Change: Marriage Go Round" (CBC Newsworld's Rough Cuts) documentary, in-studio, open-line film
- Stage: "Our Town" by Thornton Wilder, seven-day run at the Manitoba Theatre Centre, with lead role of Editor Webb
- TV: CBC "The Lens" Moderator of "God Only Knows," regarding same-sex marriage. (2005) Winner of the "Best Canadian Program" at the Banff Television Festival (2006)
- Film: "Hydro-Levesque," voice of the narrator (2007)
MORE ABOUT WARREN:
- Not only was he named to the Canadian Broadcast Hall of Fame in Montreal, Que.,1999, he was selected "broadcaster of the year" by the Western Association of Broadcasters at a convention in Banff, Alta., 1997.
- He was named to the highest Province of Manitoba award, The Order Of The Buffalo Hunt.- His personal and business papers and tape recordings, etc., have been donated to the University of Manitoba archives and special collections branch, where they have been judged of "outstanding significance of national importance."
Read BCBusiness article on Warren:
In Your Face: B.C.'s fiercest radio talk-show host unmasked.